Relax, Recharge, Retreat To St Mawes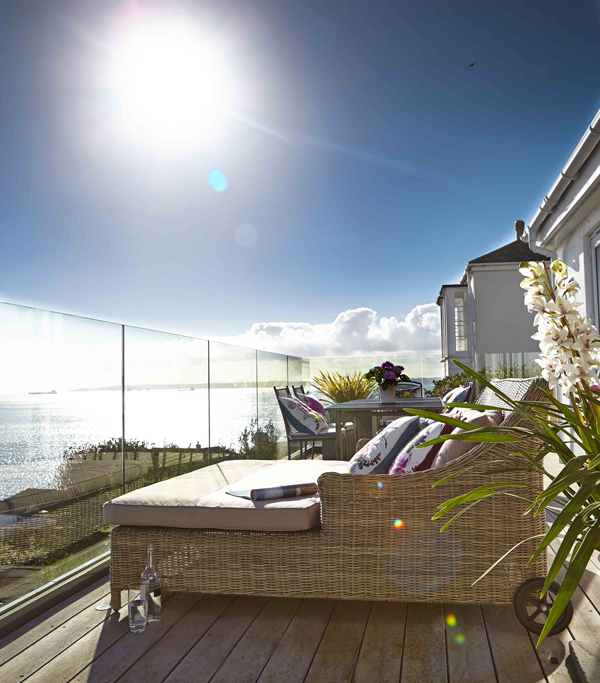 Getting away from it all when you're a busy family is an opportunity for some much needed time to regroup, recharge and reconnect…  Time out from school runs, packed lunches, commuting and rushing around and time made to relax, watch the world go by and be with your favourite people.
St Mawes in Cornwall provides the perfect backdrop for an escape from the hustle and bustle of everyday life.  Nestled in the Roseland Peninsula of Cornwall, this picturesque village is an idyllic setting for Cornish cream teas, crabbing, rock pooling and good old, back to basics family fun.
We were offered the opportunity to stay in one of St Mawes most luxurious self catering accommodations, by St Mawes Retreats a company offering accommodation of various sizes (sleeping 4-12) in some of the most stunning locations on the Cornish coast.   Putting the luxury into self catering, St Mawes Retreats offer everything from personal chefs to baby sitters, laundry services to massages – the tiny touches that make a huge difference, especially when your most valued commodity is time…  They'll even accept your online shopping delivery and have it all unpacked for you when you arrive!
With five breathtaking properties to choose from, depending on your party size you can opt for time out for just the family, meet up with the grandparents, bring some friends for the troublesome teens or holiday as a group of families.  We stayed in the aptly named Dreamcatchers, arriving on a sunny Friday evening just in time to take in the stunning views from our first floor terrace…and to enjoy the cream tea and champagne that had been provided for us!
Entrance to the property is on the first floor (the bedrooms are downstairs), into a vast open plan living-dining-kitchen area, adorned with windows to take advantage of the amazing scenery beyond.  Presented with this picture postcard view from every window of the sea, sailing boats and rolling hills and the village of St Mawes, we were all speechless!
Bi-fold doors across the width of the main room lead you to a luxury double sunbed and large outdoor table and chairs, allowing you to make the most of the first floor terrace (framed by sturdy glass walls, protecting little ones).  There's a large gas barbecue for al fresco dining if the weather is kind and steps that lead down to a second terrace, from which 3 of the 4 bedrooms open onto, offering more amazing views.  Steps from the second terrace then lead down to an enclosed lawned garden area, so plenty of space for the kids to charge around and have some great games of hide and seek!
Kitchen
High gloss, immaculate yet functional.  The kitchen had absolutely everything we could have wanted, whether you're a family of takeaway junkies, or enjoy creating cordon bleu masterpieces.  With two fridge freezers, a wine cooler, dishwasher, integrated coffee machine plus two ovens and a microwave you can entertain on a large scale or keep it simple.  There's plenty of crockery and cutlery, not only for adults but for toddlers too.  Placemats, candles, serving dishes; everything you could possibly need.
Living Room/Dining Room
Large and sumptuous leather sofas, plus a wood burning stove (we almost wished it was colder so that we could spark it up!) with state of the art television, stereo and dvd/blu ray player – we couldn't have asked for more.  The dining area was great too, although we ate outside whenever we could!  There's also a separate, cosier living room with another tv, stereo, dvd player plus wii which would have been great had we been staying longer, for cosying up with a good movie and a big bowl of popcorn or for decanting the children into if we'd wanted some grown up time!
Bedrooms
The stairs lead you down to 4 beautifully presented bedrooms, each with Villeroy and Boch en suite no less!  The main master bedroom has bi-fold doors on to the second terrace, more amazing views and a super comfy bed, but its most outstanding feature is the incorporated bathroom with walk in shower and freestanding bath, both ideally positioned so that you can take in the scenery whilst washing!!  There's a separate toilet for privacy, a flat screen tv,  pretty little glass dressing table and plenty of storage.  Perfection!
The second master has a similar set up, although no shower, but with an additional shower upstairs, that's not a problem and once again has been designed for maximum comfort, amazing views and the ultimate in luxury.  Bedrooms three and four are twins, each with separate en suites, but with the same attention to detail and comfort.
There's also a washing machine and tumble drier on this floor if you feel inclined… I didn't!
What we loved…
It's hard to encapsulate just how magical a place Dreamcatchers is.  From the magnificent views and opulent furnishings to the subtle lighting and the tiny touches, St Mawes retreats have managed to accomplish something quite extraordinary: extravagance with the comfort of home.  A place where a family can truly make magical memories, unwind and enjoy….but be warned, you won't want to leave!
Back