4 November 2021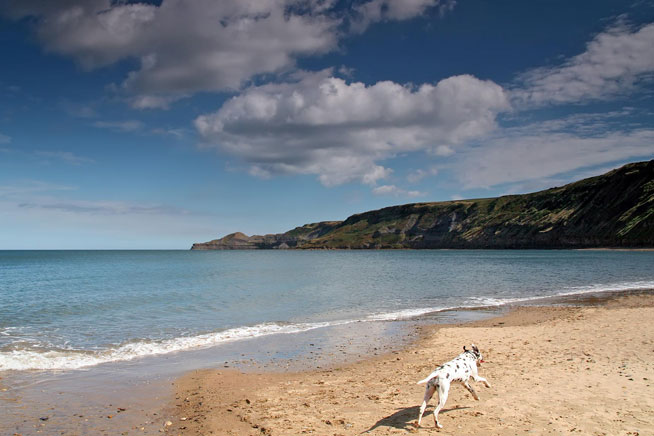 Over the years, we have had many lovely holidays with our dog, Deli.  From the Lake District to the Cotswolds, from Dorset to Devon and Cornwall, so many hotels and pubs are dog-friendly.
This autumn, we decided to try south Cornwall and settled on the very beautiful village of St Mawes, and the even more beautiful self-catering house, Stargazers.  Amanda, from St Mawes Retreats, was full of information and advice.  The luxury house was definitely accompanied by superior customer service from the time we made the booking, right up until we arrived and even through the holiday when we had queries.
We chose Stargazers for it's glorious views, amazing indoor space and the proximity to the village centre – it's just a short walk down, past the castle, and with spectacular views all the way. The weather chose to be kind to us and we were fortunate to be outdoors every day, mainly in t-shirts, even though it was beginning of October!
Eating out with our little spaniel was really easy in the village.  Mornings were spent sitting in the sun either outside the St Mawes Bakery (specialising in freshly baked pasties, scones and the famous Cornish saffron buns), Café Chandlers (gorgeous freshly cooked filled English muffins) or Deli-cious (amazing deli – fabulous selection of local produce).  All are great places to watch St Mawes waking up for the day.  Café Chandlers also sells a range of deli style food and drink – plus there is a lovely little Co-op, if you prefer to prepare food at the house.
We had Sunday lunch on the terrace at the Tresanton Hotel. This was an experience we won't forget for a while – impeccable service, fabulous food, stunning view and we could have our dog with us as we were sitting outside.  It really is worth treating yourself (and your dog) to this experience if weather and budgets allow!  The Tresanton is actually at the bottom of Stargazers garden and can be reached down 137 (rather steep) steps from the main road, or from the road that leads down to the village if you don't fancy the stairs!
We had an evening meal at the St Mawes Hotel, where we could take the dog inside.  This is a more casual place to eat, with a short menu, but they made a great fuss of our pooch and so we liked it!  We also had an evening meal sitting outside the Rising Sun pub, watching the sunset (ironically!) but we could have sat inside with the dog as well.  The pub is friendly – fairly basic food but of a decent standard.
But our holiday was about more than just St Mawes.  We had a wonderful lunch and afternoon at The Lost Gardens of Heligan, which are about a 25-minute drive away.  Lots of interesting nooks and crannies to investigate – it really is a magical place.  And there is a well-stocked shop selling fresh local produce so you can fill up on gourmet treats, and grocery staples, as well.
We did go to the Eden Project, which is dog-friendly, but you can't take dogs into the Biomes.  This makes it an interesting, but very expensive, place for a dog walk – had we known how restricted we were with the dog there, we might have chosen to go to another beach instead.
We took Deli on the ferry to Falmouth – she's not really a salty sea dog but it's a short trip and has an added bonus in that you get to see how beautiful St Mawes really is when viewing it from the water.  We kept to the main streets in Falmouth – we were there to shop and a large number of the shops are dog-friendly.  In fact, wherever we went during our trip, dog bowls were very easy to find and we were rarely told we couldn't take Deli in to a shop, café or pub with us.  We had lunch at Picnic Cornwall in Falmouth – and we all agreed that they serve probably the best coffee we had all ever had!
Deli had a good walk around Truro with us as well – again very dog friendly.  Here we lunched at the amazing Secret Garden café  – they have a little courtyard out the back where you can sit with your dog.  The food here was a revelation – it totally deserves its 5 star rating on Trip Advisor.  We also fell upon The Cornish Food Box Company shop – down a little back street and rammed full of the most spectacular Cornish food and drink.
Another interesting walk we did was to, and around, St Just in Roseland church – reputed to have the most scenic graveyard in Britain and we could see why!  We also took the drive down to Land's End which, of course, has amazing views but we did feel it was somewhat spoilt by the commercial 'shopping centre' – it you avoid that and concentrate on nature, it's a lovely spot to visit.  On the way back at St Mawes, we stopped by The Minack Theatre  which is carved into the cliff – an incredible feat of engineering and a very interesting spot to stop off at.  The sea is such a gorgeous colour here – you feel as though you're looking at the Med!
At the time of year we were visiting (early October), all the beaches were open to dogs – make a note that this isn't the case at some beaches from May through to the end of September, so choose your beach carefully.  We were delighted to have the flexibility as our dog just loves running about on a beach, chasing seaweed!  The ones we liked best are actually very close to Stargazers. Pendower Beach runs into Carne Beach – 1 mile of lovely sand and lots of little rocky outcrops.  There is a lovely hotel at the Carne Beach end – the Nare – where dogs are welcome on the terrace and in the gardens.  Dogs are allowed on the beach all year but must be on a lead in the summer.  This is a 10-15 minute drive from Stagazers.
I will end with our absolute favourite place to visit – Porthcurnick Beach, which is a short drive from St Mawes.  There are two ways to get to this lovely little sandy beach – either park in Porthscatho and walk the coastal path down to the beach, or take the 'Rosevine' turning off the A3078 – but, be warned, this is a tight road, with limited parking.  We love this beach as it's small but deep – plenty to explore – but mainly due to the fabulous Hidden Hut café which serves the most amazing range of fresh food and drink with a view that's hard to beat. Open from 10-5, February to November. And if you can get a place at one of their feast nights, you're in for a real treat – they sell out fast so it's worth signing up to their newsletter before your holiday if you want to try and get a place.
All in all, Stargazers, St Mawes and south Cornwall are fabulous places to take your dog – plenty to do and see or, if you just want to drink in the seascape, a luxurious, well equipped house with gardens that will give your dog plenty to explore as you sit back, relax and watch the world sail by.
3 August 2021
A visit to the coast has been recommended for the positive effect of being close to the sea since Victorian times. And well before that, relaxing spas and communal baths were an important part of society. Cornwall has long been a destination for rest and recuperation, especially since the post-war British seaside holiday boom. It's […]
25 November 2016
I have had the pleasure and privilege of meeting some amazing people throughout the years that I have been marketing St Mawes Retreats. Sasha Wilkins Liberty London Girl has become a dear and loyal friend. Sasha and the lovely Lettice her adorable sausage dog have provided me with so much kindness, support, love and inspiration […]
22 August 2014
We'd like to introduce you to Sarah, an experienced beauty therapist who provides in-house spa treatments as part of our concierge service at St Mawes Retreats.  Sarah explains in more detail how these treatments offer deep relaxation for your holiday in Cornwall. To sit and watch the waves ebb and flow on the shores of […]