22 August 2014
We'd like to introduce you to Sarah, an experienced beauty therapist who provides in-house spa treatments as part of our concierge service at St Mawes Retreats.  Sarah explains in more detail how these treatments offer deep relaxation for your holiday in Cornwall.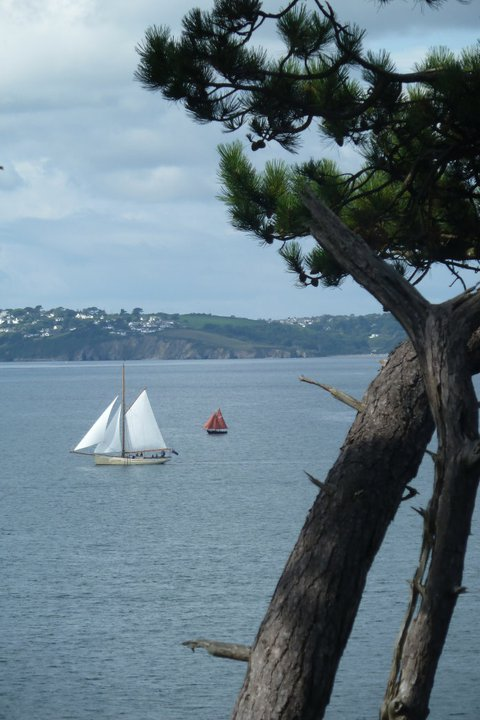 To sit and watch the waves ebb and flow on the shores of our beautiful Roseland peninsula will surely help you find peace and serenity.  There is something magical about the water here.  Every time you see the view it is grounding and at the same time enlightens the soul.  But as part of the concierge service of St. Mawes Retreats we want to give you more.  To enhance your holiday experience we offer an array of spa treatments without a need to step outside your door unless of course the weather suits a treatment al fresco on your balcony!
Holistic massage treatment 
If your muscles still feel tight after your journey or if the buzzing of adrenaline is still evident after major work stresses, why wait for your body to take its natural course flushing the chemicals and hormones out? A Holistic massage alleviates the effects of stress by inducing deep relaxation, helping the body balance itself and allowing healing energy to flow freely and smoothly throughout.  Deeper or lighter techniques can be incorporated to cater for your health and needs at the time. The massage includes back, legs, abdomen, face, arms and scalp or you could opt for a focused back, neck and shoulders massage for the hour if these are where you hold your stress and if you haven't had a massage in a while.
I use a technique called tapotement around the shoulders for relief from knots and tension with great success.  Suzanne Duckett, Editor of the Tatler Spa Guide said 'Tapotement massage technique (v fast tapping action) by Sarah loosened my rock-like shoulders for once without me wincing in pain.' And Caroline Sylger Jones, spa journalist and the editor of healthy travel site www.queenofretreats.com, said: 'Sarah's tapotement – the percussion strokes used in Holistic or traditional Swedish massage – stimulated when performed fast and calmed when done slowly – she used them to loosen the tight muscles in my shoulders but also to help with the chesty cough I was suffering with'.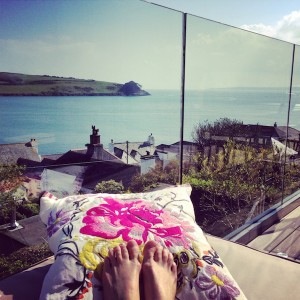 © Caroline Sylger Jones
Luxury spa treatments, exclusive to your holiday at St Mawes Retreats
Sian Parry from Marie Claire tried out one of our bespoke treatments named especially after 3 of St Mawes Retreats luxury sea view holiday houses.  And she recommends 'While you are there: Book and enjoy heavenly treatments in your room – try the two hour 'Star' luxury treatment that features a facial using Inlight Organic Skincare, a salt body scrub and some reflexology' This treatment is ideal for cleansing and rejuvenating the skin after dealing with the heaviness of the air in an urban environment.  The Reflexology part of the treatment is tailored to your needs at the time, if you have weak systems of your body that are apparent when you are stressed we will work on these and show you how to boost them yourself through hand reflexology.
If you haven't experienced massage before or don't like the thought of the whole of your body being massaged how about trying an Inlight Organic facial, 75 minutes of delicate facial massage and reflexology with a focus on traditional Ayurvedic points and lymphatic drainage techniques to help release tensions and regain balance. Viki Wilson from Cornwall Today explains 'This is no simple facial; it is holistic ritual and the treatment involves balancing chakras and whispered affirmations, to breathe in light and invite clarity.  Afterwards, I feel refreshed and relaxed as I emerge from a blissful pampering.'  So it is feels holistic even though you can stay snuggled under the blanket.
Finally for this month's blog, how about the ultimate indulgence for massage lovers, our 'Apollo Awakening' massage with Polynesian roots.  This hour long four-handed treatment has been reviewed as 'akin to a dance. Sarah and Alexandra seem to have practised this therapy to Olympic standard as their hands massage either side of my legs and back in brisk, then gentle wave-like motions, performed in almost poetic synchronicity..'  We work in a seamless wave-like flow to induce a profound awakening of your senses and re-connecting energy pathways from your core to tips of your toes;' an ideal gift for someone on that special occasion.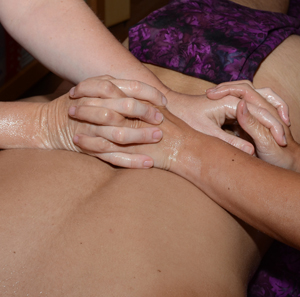 Other treatments will be reviewed in forthcoming blogs, but it is important to know that through our spa menu of 15 wondrous treatments we endeavour to find a combination that suits you and that afterwards you feel refreshed, relaxed and emerge blissfully pampered.